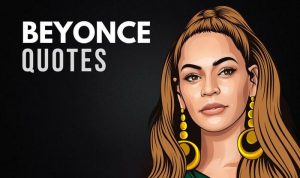 Beyoncé Knowles is a global pop culture icon with few equals and little need for an introduction.
Beyonce quickly rose to fame in the 90's as lead singer of the group 'Destiny's Child'. Since going solo she's sold millions of albums worldwide, and now has an estimated net worth of close to $300 million.
Today, we have an awesome collection of Beyonce quotes about life and beauty.
If you enjoy this list and want more quotes of the similar kind, we recently included quotes from her partner, the one and only Jay Z.
30 Beyonce Quotes
1. "I felt like it was time to set up my future, so I set a goal. My goal was independence." Beyoncé
2. "I'm learning how to drown out the constant noise that is such an inseparable part of my life. I don't have to prove anything to anyone, I only have to follow my heart and concentrate on what I want to say to the world. I run my world." Beyoncé
3. "It's easy to hear the voices of others and often very difficult to hear your own. Every person you meet is going to want something different from you. The question is: what do you want for yourself?" Beyoncé
4. "Your self-worth is determined by you. You don't have to depend on someone telling you who you are." Beyoncé
5. "Take the time to define yourself and define your value. If you're having a hard time doing that, ask yourself: What is something I would say to someone I love?" Beyoncé
6. "Thank God I found the GOOD in goodbye." Beyoncé
7. "If everything was perfect, you would never learn and you would never grow." Beyoncé
8. "Do what you were born to do. You have to trust yourself." Beyoncé
9. "Power means happiness; power means hard work and sacrifice." Beyoncé
10. "Everyone's not good at everything, it's OK to depend on someone." Beyoncé
20th of Beyonce Quotes
11. "When I'm not feeling my best I ask myself, 'What are you gonna do about it?' I use the negativity to fuel the transformation into a better me." Beyoncé
12. "We need to reshape our own perception of how we view ourselves. We have to step up as women and take the lead." Beyoncé
13. "I can never be safe; I always try and go against the grain. As soon as I accomplish one thing, I just set a higher goal. That's how I've gotten to where I am." Beyoncé
14. "The most alluring thing a woman can have is confidence." Beyoncé
15. "The reality is: sometimes you lose. And you're never too good to lose. You're never too big to lose. You're never too smart to lose. It happens." Beyoncé
16. "We all have our purpose, we all have our strengths." Beyoncé
17. "I truly believe that women should be financially independent from their men. And let's face it, money gives men the power to run the show. It gives men the power to define value. They define what's sexy. And men define what's feminine. It's ridiculous." Beyoncé
18. "Be healthy and take care of yourself, but be happy with the beautiful things that make you, you."
19. "A true diva is graceful, and talented, and strong, and fearless and brave and someone with humility." Beyoncé
20. "We all have our imperfections. But I'm human, and you know, it's important to concentrate on other qualities besides outer beauty." Beyoncé
You might also like: Top 30 Jay Z Quotes About Life
30th of Beyonce Quotes
21. "When you love and accept yourself, when you know who really cares about you, and when you learn from your mistakes, then you stop caring about what people who don't know you think." Beyoncé
22. "Whenever I'm confused about something, I ask God to reveal the answers to my questions, and he does." Beyoncé
23. "I hold a lot of things in. I'm always making sure everybody is okay. I usually don't rage; I usually don't curse. So for me, it's a great thing to be able to scream and say whatever I want." Beyoncé
24. "When you really don't like a guy, they're all over you, and as soon as you act like you like them, they're no longer interested." Beyoncé
25. "I think music is something that can, and should, be used to get you into different things because eventually what goes up must come down – we're not going to be the number one group in the world forever – so you have to have something else to fall back on." Beyoncé
26. "My focus is my art, and that's what I love to do. I have to be really passionate in order to do something. I've turned down many things that I just didn't believe in." Beyoncé
27. "I wanted to sell a million records, and I sold a million records. I wanted to go platinum; and I went platinum. I've been working nonstop since I was 15. I don't even know how to chill out." Beyoncé
28. "For me, it's about the way I carry myself and the way I treat other people. My relationship and how I feel about God and what He does for me, is something deeply personal. It's where I came from, my family, I was brought up in a religious household and that's very important to me." Beyoncé
29. "I get nervous when I don't get nervous. If I'm nervous I know I'm going to have a good show."
30. "I feel like you get more bees with honey. But that doesn't mean I don't get frustrated in my life. My way of dealing with frustration is to shut down and to think and speak logically."
Summary
Thanks for checking out these awesome Beyonce Quotes About Inspiration! If you enjoyed the list, please help us spread the word by sharing it on your social media.