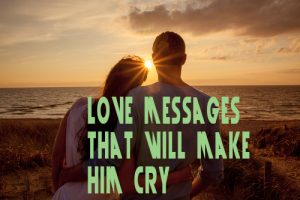 Your boyfriend will be happy to receive a heartfelt romantically love messages. These are Love text ideas for composing romantic messages to your boyfriend that will make him cry.
Everything About You
Everything about you seduces me.
All you need to do is breathe and I would do anything for you.
You are like a gift from heaven. You have a heart that could encompass the entire world, your beautiful inner glow radiates peace and love.
Everything about you makes me realize how truly lucky I am to have met you, to know you and to love you. You are a priceless, unique jewel.
I thought that love was overrated until the day I fell in love with you. You changed everything, my world, my life.
They say everything happens for a reason. Well, I must have done something extremely good in the past, or my previous life if there was one, because you are the most precious, loving person on Earth. I love you.
My dear, I want you to know that you mean everything to me and that I would be lost without you.
We all have faults as nobody is perfect. But everything about you, all your imperfections included, just warms my heart and my feelings for you are true.
Romantic birthday messages for him
My Love For You
My love for you will always be like a mountain spring.
Pure, persistent, continuous.
My love for you knows no limits. My dear, I would do anything for you.
I want to celebrate love. My love for you … You and I together 🙂
My heart, my love, burns for you like the evening sky.
My love for you is pure, loyal and enduring … you are my life.
I love you, my dear. Know that this love will never waver, it will stay true to you.
What would I do without you? I would be lost, like a fish in a desert; like a bird in a closed cave.
As long as there is a moon, as long as there is a sun, I will always think of you.
You might also like: Love messages that will make her cry
Your Heart And My Heart
Your heart and my heart were always meant to beat together.
Our hearts sing to the same melody of love … our love.
Your heart and my heart are linked through the invisible, yet strong bonds of love, devotion and faithfulness.
In my heart and in my soul, I carry a special image – the image of you, smiling; the image of us together 🙂
My heart was broken before, but ever since I met you, my heart is happy to have found its twin. I love you.
Your heart and mine dance to the rhythm of our common beats … the beats of our love.
Sometimes I think that I need a spare heart to feel all the things I feel for you.
Thanks for viewing this Love messages that will make him cry 2020! Don't forget to share them with your friends on social media.
Which are your favorite Love Messages for him? Leave a comment below.
biggest thanks to lovemessagesfromheart