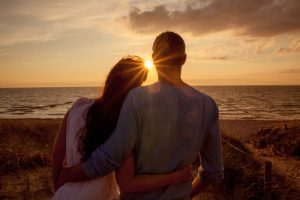 love messages that come from your heart always express your deep feelings to your sweetheart with sincerity.. Get Inspired by these collections of Love Messages to your girlfriend.
Love Song In The Heart

I'm addicted to the lyrics of the song
that sing out from your beautiful heart.

I have a love song in my heart and its lyrics are a serenade dedicated to you.

I keep hearing the soft sounds of the love song with the light tender music of heartbeats singing to the melody of our love.

You are what love songs are written and sung about.

The happiest music of them all and my absolute favorite music is the love song about you and me.

Not a single love song ever composed comes close to the feelings you evoke in my heart.

You are the most beautiful love song, the most beautiful music ever created, the most beautiful person in this world.

With you by my side, my happiness is reflected in my heart … it is glowing with love.

Thousands of birds sing the calming song of romantic melody … it is a special serenade to celebrate our love.

There is one music that will never go out of fashion. It is the music of our love, sung from deep within our hearts.
You might also like: Most touching love messages for him
Best Thing That Happened To Me

The best thing that ever happened to me is being with you, knowing you, loving you.

The best thing in life is to love and be loved back in return.

Something happened to me that changed my life completely. It started when I first saw you, when I fell in love with you. Now I am happy.

I could tell you, but instead I want to show you how you mean the world to me. I will keep showing you.

All I can say is that I am the luckiest person alive … I feel blessed to know you, to love you, to call you mine.

The truth is that I couldn't imagine my life without you. You are the love of my life.

It is as if you are my twin soul and we belong together for all eternity. I love you.
Just Kiss Me

Just kiss me. We can talk later.

I want to kiss you right now, I want to hug you tight and whisper my secret desires into your year.

When you kiss me, my world is a happier place. When you kiss me, my heart purrs lovingly.

A kiss, a dance, a candlelit dinner, music, you and I. Tonight.

My dear, I want to press my lips against yours and kiss you 🙂 Then you kiss you more.

Forget about your worries, just kiss me and lets cuddle.
Thanks for viewing this Love messages that will make her cry! Don't forget to share them with your friends on social media.
Which are your favorite Love Messages? Leave a comment below.
biggest thanks to lovemessagesfromheart