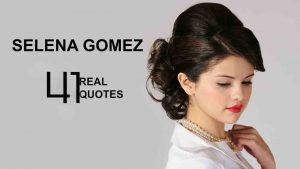 Singer Selena Gomez is considered as one of the most successful 'Disney' child actors.
Starting off with minor roles in 'Disney' productions, this actor proved her mettle and soon rose to fame. At the impressionable age of twenty-two, she has already received fifty-eight prestigious awards, for her brilliant performances as both an actor and a singer.
41 Famous Selena Gomez Quotes
1.d "You are who you surround yourself with. I know that's such a cliche quote, but it's true." Selena Gomez
2. "It's all about baby steps and trying to figure out how to slowly, elegantly become an adult." Selena Gomez
3. "We only have one life, and it is very precious, and there's a lot we can do, and there's a lot we should do." Selena Gomez
4. "Nobody really knows everything, and they can only assume." Selena Gomez
5. "I try to be professional; I try to be on time. I don't take anything I have for granted. That's my definition of success." Selena Gomez
6. "People are put into your life for seasons, for different reasons, and to teach you lessons." Selena Gomez
7. "My happiness is not dictated on this business. Once I realized that, everything kind of changed." Selena Gomez
8. "Sometimes you have to lie to yourself to get through the criticism, and then you're in your closet crying. It's been like that for me a couple of times, but I only want to learn from those things." Selena Gomez
9. "I don't trust anyone. It's something that I have to live with, and I have to find the balance of who I want in my life and who isn't good for me." Selena Gomez
10. "I like to find things that are unconventional and make them look classic because if I'm forcing something, you can just tell." Selena Gomez
You might also like: Selene Gomez Love Quotes That Will Make You Grateful
11. "You can't be afraid of what people are going to say because you're never going to make everyone happy." Selena Gomez
12. "I think life is very, very, very hard, and I've never had anything come super easy to me, no matter what people may think." Selena Gomez
13. "You have the right to live a beautiful life" Selena Gomez
14. "My mom always told me if I love what I'm doing and I'm having fun then just continue to do it. But if it's not fun for me anymore and I'm miserable, then I'm going to go back to Texas and quit it all, to be honest." Selena Gomez
15. "For me, my music is fun. I don't really take my music that serious." Selena Gomez
16. "I just try to make my home everywhere I go as much as I possibly can." Selena Gomez
17. "I have a pretty healthy perspective on what my past music was." Selena Gomez
18. "I'm young: I've lived my life in the public eye, and I've had to figure out how to do that."
19. "For a while, my private life was the most talked about thing." Selena Gomez
20. "My mom would still be mad if I didn't say 'please' and 'thank you.'" Selena Gomez
21. "My family and I want to start our own organization to work on global warming and a couple of other things." Selena Gomez
22. "I used to say that I wanted someone cute and nice, an actor too, so he'd get it. But now I think it would be good for me to date someone who's not in the business." Selena Gomez
23. "I'm going to hang out with people, and I'm going to explore myself, and I'm okay with that" Selena Gomez
24. "I wanted to do things that I knew were going to be me." Selena Gomez
25. "I found strength in what hurt me. And in my family – that's my strength as well. I'm truly grateful to be hurt as many times as I have, because I'm happy!" Selena Gomez
26. "I really – I just wanna sing. And I wanna show people that I can sing." Selena Gomez
27. "I love Katy Perry! She gave me a song for my second album." Selena Gomez
28. "I've been working since I was 7." Selena Gomez
29. "People are so mean, it's exhausting." Selena Gomez
30. "There's such an emphasis on people being the perfect thing and then destroying them because it's good press." Selena Gomez
Others are reading: Selena Gomez Inspirational Quotes That Will Leave You Speechless
31. "I never really said I want to be a role model. But then when it happened I was so down for it." Selena Gomez
32. "I want someone honest, someone who's very sweet to my family and friends, and polite to the other people around me." Selena Gomez
33. "I like to have fun. I like to hang out." Selena Gomez
34. "I'm a young woman, and I'm growing up and trying to do it in a way I feel comfortable with." Selena Gomez
35. "Everywhere you go you hear things that are untrue. You've just got to learn that if I don't say it, physically out of my mouth, on camera, it's not true." Selena Gomez
36. "I have a lot of wonderful people in my life – probably five, collectively – who I can tell everything to." Selena Gomez
37. "I'm learning that you can be comfortable and still look beautiful." Selena Gomez
38. "I've learned that I want what I deny. I want someone who is crazy about me, who treats me like a princess. I want the picture-perfect fairy tale stuff." Selena Gomez
39. "People speculate or think what they want to think, but it's been really fun for me to kind of explore what I want to explore." Selena Gomez
40. "I did gain weight, but I don't care." Selena Gomez
41. "I want to keep pushing myself so I never feel settled. I don't really know if it's going to end up working. I'm stressed out most of the time." Selena Gomez
Recommendation: Shakira Quotes About Life
Summary
Thanks for viewing this collection of the best Ariana Grande quotes! Don't forget to share them on social media with your friends and family.
Which are your favorite Selena Gomez Quotes About Life That Will Change Your Life? Leave a comment below.