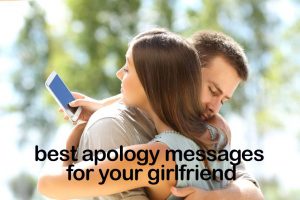 In every strong relationships, there's always quarrels and disagreements from time to time. Sometimes, under the influence of emotions and resentment, people say rude words to each other.
Such words can seriously spoil their relations and even break somebody's heat. But you must know that problems in relationship is quite a normal and even regular part of our life. It can even be useful, and it may help to refresh your passion. In case of an argument, psychologists advise not to give in to panic but put your thoughts together, analyze what is going on, cool your mind and then choose the best ways to apologize to your beloved and at last reconcile. There are many ways to return to your dear woman or man after the quarrel. We analyzed the texts messages of apologies, studied human's psychology, and selected for you the best apology messages ever to save your relationship.
Best apology message to girlfriend
If you want to show to your girlfriend that you are a responsible man, take the initiative and ask her first to forgive you. We will help you to make up the text of an apology SMS.
I want to see you so much! I want to hug you and look into your beautiful eyes! Forget all quarrels and offenses, and let us stay together forever!!!
A quarrel makes people think about their feelings. It makes them understand how hard life is without their beloved ones. I feel so sad without you. I wish I never quarreled with you, my love.
Forgive me for being so rude. Sorry for the pain I've caused to you. If you can, forgive me.
Before you leave and never return, think one more time. It is better to forgive everything and be happy than lose your happiness…
Forgive me, my love, for writing to you, but I repeat again and again that I love you and miss you!
I will do anything you want. Come back to me as soon as you can! Come back, please! I'm begging! We will lose our love and regret it…
Forgive me for all the troubles I have caused… Frankly speaking, I kiss your photo every day before I go to bed. I wish I could have a second chance.
My bae, before you take offense, think one more time. It is better to smile and forgive than slam the door in front of happiness!!!
Let's learn from our mistakes. Trust me, please; I will never make this mistake again!
My heart is heavy; I am silently looking out of the empty window now. Excuse me for the stupid words and actions, please do not be mad at me!
The heart does not want to believe that you are far away from me now. My pain cannot be measured. I hope you will forgive me!
You might also like: Sweet I am Sorry Messages for Her
I want to stand before you on my knees. I want to apologize. Today I realized that without your love and forgiveness, it makes no sense for me to go on living.
After our quarrel, I hate myself again. Let's meet and talk like grown-up people not to lose each other!
Our stupid pride can kill our great love. Only kindness and tenderness can reconcile us again. So let's be kind and tender to each other.
Honey, aren't you tired of being offended? Let's try again from the very beginning!
Darling, I'm sorry for having treated you like that. Forgive me for causing you pain. I'm sorry, I'm sorry, I'm sorry; I want to live in peace with you!
I want so much to hug you, to forget about abuse and resentment. I want you to excuse me, a poor fool guy. Let's live without quarrels for many years!
For God's sake, I'm sorry! (a very emotional and expressive phrase).
People Are Also Reading: Interesting Topics To Talk About With A Girl You Like
Thanks for viewing this best apology messages for your girlfriend! Don't forget to share them with your friends on social media.
Which are your favorite apology sms? Leave a comment below.