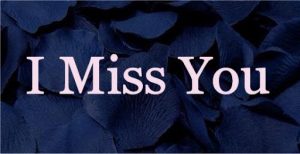 Missing someone you love is not easy at all but showing them how important they mean to you and how they absent makes you look like a psycho will make the love more effective… Get inspired by the following i miss you messages and let your loved ones know about how you feel.
My dear, I keep thinking about you nonstop. I feel so empty inside, my heart aches and my mind seems to be going wild. Oh, I miss you so much!

Sweetheart, I just want you to know that I feel lost without you. I miss your smile, your kind and gentle touch, your sweet kiss, your loving presence. I miss you to the point of going crazy.

I had no idea how much I would miss you, but now that you are far away, it hits me with a force of a full hurricane. I can't stand alone, you are part of me and that will never change… you give me strength, love and happiness. Come back soon, my dear!

Like a flower without water, like a sunrise without sun, like a world without light, without you I wither away, day by day more and more… I miss you very much.

I hear my heart beating, but it's not the same rhythm, it's not the same joyful loudness. I miss you so much and my heart tells me with every single beat.
People's are also reading: Short Love Messages for Her or Him
I count the weeks, I count the days, I count the hours and the minutes until your return. I keep counting and thinking about you – it is all I can do every day. I miss you, my dear, with all my heart.

I close my eyes and see your beautiful smile, I hear your sweet melodious voice, I smell your delightful aroma … my senses are heightened and my heart beats faster and faster. I don't want to open my eyes to face the lonely world again. Yes, I am so lonely without you. I miss you desperately.

Oh, my dear, how I wish you were here next to me. We belong together and whenever you are away, my soul cries out for you. I cling to the hope that the days will shrink to seconds and you will be with me soon. I really miss you!
YOU Might ALSO Like: I'm Sorry Message to your lover in 2020
Thanks for viewing this Deep i miss you messages for him or her! Don't forget to share them with your friends on social media.
Which are your favorite i miss you messages? Leave a comment below.