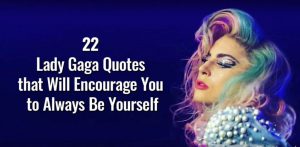 See this collection of Lady Gaga quotes that can inspire you to be your authentic self. we've searched all over the internet and gathered best of Lady gaga quotes just for you.
TOP 10 of 30th QUOTES BY LADY GAGA
1. "I'm telling you a lie in a vicious effort that you will repeat my lie over and over until it becomes true." Lady Gaga
2. "Trust is like a mirror, you can fix it if it's broken, but you can still see the crack in that reflection." Lady Gaga
3. "I allow myself to fail. I allow myself to break. I'm not afraid of my flaws." Lady Gaga
4. "I want you to walk out of here tonight not loving me more, but loving yourselves more." Lady Gaga
5. "You really don't need to be a celebrity or have money or have the paparazzi following you around to be famous." Lady Gaga
6. "Fight and push harder for what you believe in, you'd be surprised, you are much stronger than you think." Lady Gaga
7. "Don't be a drag. Just be a queen." Lady Gaga
8. "I've been searching for ways to heal myself, and I've found that kindness is the best way." Lady Gaga
9. "For being different, it's easy. But to be unique, it's a complicated thing." Lady Gaga
10. "Prejudice is a disease. And when they come for you, or refuse your worth, I will be ready for their stones. I belong to you." Lady Gaga
TOP 20 of 30 QUOTES BY LADY GAGA
11. "And now, I'm just trying to change the world, one sequin at a time." Lady Gaga
12. "They can't scare me, if I scare them first." Lady Gaga
13. "Do you know the feeling, when your heart is so hurt, that you could feel the blood dripping?" Lady Gaga
14. "I want the deepest, darkest, sickest parts of you that you are afraid to share with anyone because I love you that much." Lady Gaga
15. "If you don't have any shadows you're not in the light" Lady Gaga
16. "I'm a free bitch baby" Lady Gaga
17. "I'm obsessively opposed to the typical." Lady Gaga
18. "People will always talk, so lets give them sumthin to talk about" Lady Gaga
19. "Cause it's a hard life, with love in the world. and i'm a hard girl, loving me is like chewing on pearls." Lady Gaga
20. "Well my music was different in high school; I was singing about love—you know, things I don't care about anymore." Lady Gaga
TOP 30 of 30 QUOTES BY LADY GAGA
21. "All that ever holds somebody back, I think, is fear. For a minute I had fear. [Then] I went into the [dressing] room and shot my fear in the face…" Lady Gaga
22. "I want women — and men — to feel empowered by a deeper and more psychotic part of themselves. The part they're always trying desperately to hide. I want that to become something that they cherish." Lady Gaga
23. "I've always been famous, it's just no one knew it yet" Lady Gaga
24. "Sexuality is half poison and half liberation. What's the line? I don't have a line." Lady Gaga
25. "For being different, it's easy. But to be unique, it's a complicated thing." Lady Gaga
26. "I'm a little bit naked, but that's okay." Lady Gaga
27. "At the end of the day, you won't be happy until you love yourself." Lady Gaga
28. "To everyone who says this is wrong to feel like this say, 'I was born this way baby." Lady Gaga
29. "My friends joke that I'm dead until I get onstage. I'm dead right now as you're speaking to me." Lady Gaga
30. "Ignore all hatred and criticism. Live for what you create, and die protecting it." Lady Gaga
You might also like: Lady Gaga Quotes About Life
Summary
Thanks for checking out these awesome Lady Gaga Quotes About Inspiration! If you enjoyed the list, please help us spread the word by sharing it on your social media.