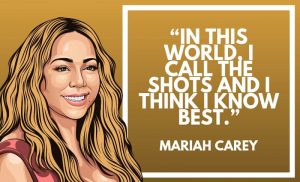 Discover MARIAH CAREY famous and rare quotes. Share motivational and inspirational quotes by MARIAH CAREY. We have gathered the most Motivational Quotes of Mariah Carey from her songs, interview, public advise, Speech and more.

TOP 30 QUOTES BY MARIAH CAREY
1. "I always felt like the rug could be pulled out from under me at anytime. And coming from a racially mixed background, I always felt like I didn't really fit in anywhere." Mariah Carey
2. "But I think I'm a nice friend and a good person, and I try to do my work as best I can." Mariah Carey
3. "I definitely feel more complete than before. There's a void you have when you don't feel you've found the other part of who you are, so I'm in a different place now and that's nice to experience." Mariah Carey
4. "I think the greatest gift to me is that I can express myself in songs. It helps me get through some of the hardest times of my life. It also helps me celebrate some of the best times." Mariah Carey
5. "My brother and sister had a much worse childhood, I think, because they were older, and they had to deal with a lot more racism because they grew up in the '70s and I grew up more in the '80s. So they had to deal with crosses being burned on their lawn and their dogs being poisoned." Mariah Carey
6. "I never thought that I would have love again, but it's amazing how the universe brings love to you." Mariah Carey
7. "Some of us talk about other people and what they do and la la la. But I'm not that person." Mariah Carey
8. "I've been blessed to live my dream more than half my life, so I want help give that back to someone else." Mariah Carey
9. "I think certain people like to torture me because they think I've had it easier than I actually have and they think: 'Oh, she's got this, she's got that, she's always had everything perfect,' and it's sooo not true." Mariah Carey
10. "My heart has never been broken, I've never broken anyone else's." Mariah Carey
20 QUOTES BY MARIAH CAREY
11. "I can still count on one hand the number of men I`ve slept with." Mariah Carey
12. "I don't mind being compared to Whitney, there are people miles worse to be compared to." Mariah Carey
13. "I've been working on my craft for a long time. People never want to let go of the whole 'Glitter,'… I'm like, 'It's eight years later, people. Let's move on." Mariah Carey
14. "Being biracial is so much a part of who I am that it's almost, 'Let it go already.' It's intrinsic to me. I think a lot of my fans relate to me because they felt different." Mariah Carey
15. "I started singing when I started talking." Mariah Carey
You might also like: Mariah Carey Quotes About Life
16. "Basically, I started singing when I started talking. Music has just been my saving grace my whole life." Mariah Carey
17. "Especially since I started studying acting, I feel like I'm always super-aware of my emotions and my feelings and what's going on with me at every moment. I definitely think I wasn't very present prior to that." Mariah Carey
18. "Honestly, everybody gets talked about. Some people control their press a little more than others. Some people feed the press and move it the way they want to. I don't do that." Mariah Carey
19. "Trust is not very easy for me at all. I want to be a trusting person, but I've been bruised so many times – not to sound woe-is-me about my life." Mariah Carey
20. "Stardom is a magical yet freakish situation at times. It's a cliche but very true that at times, you feel so alone, even when you're surrounded by so many people." Mariah Carey
39 Mariah Carey Quotes from theDivest
21. "I love giving gifts. It's almost like I don't open my gifts until, like, three days after Christmas 'cause I want to give everyone else their presents." Mariah Carey
22. "If two people want to get married, it's their prerogative – we hope. Everybody should be able to do what they want to do and be in the pursuit of happiness." Mariah Carey
23. "It's not easy that everything you do, everybody has to come in and critique it and give their opinion. Sometimes it does help me and sometimes it hurts me as a person. That's life. I have feelings." Mariah Carey
24. "Everybody Out There….Dont take ANYBODY for granted. Cause you never know when you might lose them, and you may never get the chance to tell them how you really feel" Mariah Carey
25. "Once I was a prisoner lost inside myself with the world surrounding me, wandering through the misery, but now I am free. Free to love, free to laugh, free to soar, free to shine, free to give." Mariah Carey
26. "Cause there's a light in me that shines brightly. They can try, but they can't take that away from me." Mariah Carey
27. "We have to go through certain things in order to appreciate life and learn lessons." Mariah Carey
28. "See, I'm looking for a man that'll rub me slow, make me sing real high when he goes down low." Mariah Carey
29. "We're all a little wacko sometimes, and if we think we're not, maybe we are more than we know." Mariah Carey
30. "I arrange flowers in my spare time. Well, when I have spare time, that is." Mariah Carey
Summary
Thanks for checking out these awesome Mariah Carey Quotes About Motivation! If you enjoyed the list, please help us spread the word by sharing it on your social media.