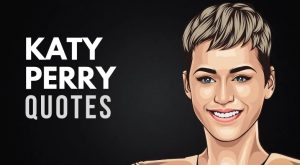 Katy Perry is an incredible music artist, who was born in a conservative family and grew up under many restrictions.
However, she has an affinity to music and heard all sorts of music which her friends provided her with, even though those were not allowed by her parents. She is outspoken and defended her desire to become a music artist and chased her dream.
Many of her songs got shelved before she was signed by the 'Capitol Records'. This was the turning point of her musical career when her album 'One of the Boys' turned out to be a huge hit.
This singer sometimes writes songs and is even engaged with many philanthropic works other than her musical commitments. She is also an activist who advocates the rights of the gay and believes that they should be treated equally.
Here's our collection of the best Katy Perry quotes & lyrics of all time:
"Be yourself and you can be anything." Katy Perry
"The past is like a handful of dust. It filters through your fingers, disappearing little by little. I wish, for one day, I could go back. In another life I would do things differently." Katy Perry
"If you can believe in something great, then you can achieve something great." Katy Perry
"Be yourself, that's what makes the world go round!" Katy Perry
"Maybe a reason why all the doors are closed, so you could open one that leads you to the perfect" Katy Perry
"If you're presenting yourself with confidence, you can pull off pretty much anything." Katy Perry
"You can get through it and you can land on your feet triumphantly and strong." Katy Perry
"Don't care what people gonna think of you, do what you wanna do and seek just your happiness." Katy Perry
"Sometimes if you want to achieve something great, there will be curveballs. You just have to dodge them every once in a while." Katy Perry
"All women are created equal, then some become Мarines." Katy Perry
"Throw your stick and stones, throw your bombs and your blows, but you're not gonna break my soul." Katy Perry
"Unfortunately, I think a lot of people are affected more by the idea of fame than the actual work ethic involved. A lot of them just want to be reality TV-type people who don't do anything." Katy Perry
"There's a spark in you you've just gotta ignite the light and let it shine." Katy Perry
"You know you're living right when you wake up, brush your hair – and confetti falls out!" Katy Perry
"So take a chance and don't ever look back." Katy Perry
"Find out what your gift is and nurture it." Katy Perry
"I'm kind of more sunshiny person myself." Katy Perry
"Using blasphemy as entertainment is as cheap as a comedian telling a fart joke." Katy Perry
"After a hurricane, comes a rainbow." Katy Perry
"You dig deep beyond those scars and find that soft tissue again, and you massage and nurture it and bring it to life, little by little, through serving yourself well. I did it through hikes and vitamins and therapy and prayer and good friends." Katy Perry
"You don't have to feel like a waste of space, your original can not be replaced." Katy Perry
"I think you can have it all, you just have to work really hard because great things don't come easily." Katy Perry
"You have to spend a lot to make a lot. It's not like I'm sitting on top of a pile of money." Katy Perry
"Comparisons are easily done, once you've had a taste of perfection." Katy Perry
"It's always been inside of you, and now it's time to let it through." Katy Perry
"Acceptance is the key to be truly free." Katy Perry
"A lot of the time people don't even know what they want until they see something new." Katy Perry
"I've lived such a great, fantastic life already, but there's still so much more." Katy Perry
"It's ok to be proud of hard-earned success. There is no shame in being a boss." Katy Perry
"Sometimes, you promise someone forever, but it doesn't work that way." Katy Perry
"For a modern woman it is important to be supported and that there is equality in every aspect, and that it's not two halves that make a whole – it's two wholes that make a whole." Katy Perry
"If you are not happy with something, you should change it. So I went to a lot of therapy, and finally, I am able to speak up for myself: You are going to hear me roar!" Katy Perry
"I think you become more relatable when you're vulnerable." Katy Perry
"If you have a dream you gotta go on a journey to fulfill that dream." Katy Perry
"I just feel like I'm going to be criticized regardless of what I do next, so I might as well do something that I feel really passionate about." Katy Perry
You might also like: Elvis Presley Quotes About Life
Which are your favorite Elvis Presley Quotes About Life? Leave a comment below.