When Wizkid was 11 years old, he started writing songs. With the release of his album Superstar in 2009, he began making music as a job. Since then, he has put out four albums in a studio. Fans love to use lyrics and quotes from Wizkid. Here are some of Wizkid's most well-known quotes, lines from songs, and sayings.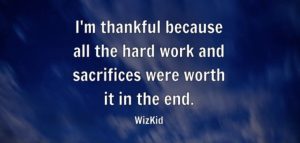 Wizkid is one of the most popular and probably also one of the youngest Nigerian musicians.
He plays Afrobeat, Afropop, reggae, dancehall, hip-hop, and pop, among other kinds of music. When he was 11, he began making music recordings.
Wizkid is best known for being on Drake and Kyla's song "One Dance," which went to #1 on the Billboard Hot 100, the US R&B/Hip-Hop chart, and the charts in Australia, Canada, France, Ireland, New Zealand, Switzerland, and the UK.
Wizkid Powerful Quotes
"Taking the time to truly learn the ropes of your hustle and not getting ahead of yourself is possibly the greatest favor you can do for yourself" – Wizkid
– I dream about u When am sleepin and you are the air am breathing girlll. – Wizkid
– She's so in love with the streets That means she's in love with me. – Wizkid
– You make me act a fool, you make me act a fool Bossy for me cool, she bossy for me cool oh – Wizkid
"The best kind of relationship in the world is the one in which a sorry and a smile can make everything back to normal again." – Wizkid
"Suffer doesn't kill you, just makes you stronger" – Wizkid Quotes
"No family is perfect, we argue, we fight, we even stop talking to each other at times but in the end, the family is family… the love will always be there." – Wizkid
"Most of the problems in life are because: we misunderstand people's intentions, we don't listen and jump to conclusions, and then we are too proud to apologize and too stubborn to forgive." – Wizkid
"If you think you are too small to make a difference, you haven't spent a night with a mosquito." – Wizkid Quotes
"I didn't have accessories when I started my career. Did you see me wearing bling-bling when I did 'Holla at Your Boy?' No! I hustled to get money to buy them and there is no crime if I show it or flaunt it to my fans because they gave me money to buy them." – Wizkid
"What you see can be deceiving, baba lo seyi o, twenty man shall fall if you dare to cross my lane" – Wizkid
"My brother look sharp stop sleeping" – Wizkid
"Chase your dreams and keep believing, and they sky will be your beginning" – Wizkid.
"Loves women so much, wow! That's what y'all really think of me? Lol" – Wizkid
"When i go out there and see people trying to show me love for my work, that a lone is my accomplishment" – Wizkid
"I'm known for crazy energy when i get on stage" – Wizkid
"I am really thankful to the early stages of my life because those are the things that really shape me into who i am today" – Wizkid
"There's a lot of amazing Artist from Africa that the world needs to know about." – Wizkid
"Menh i'm a local boy, forget about all this Louis, Gucci stuff, i really come from the dirty dirty." – Wizkid Quotes
"Music started for me in church" – Wizkid
"I knew 'Ojuelegba' was a good song, but I didn't expect it to blow up the way that it did." – Wizkid
"Whenever I make music, I just make it depending on however I feel at that moment and what I'm getting inspiration from, so it depends – whatever, it's just my mood." – Wizkid
You might also like: Rihanna Quotes About Inspiration
"It's not like a boss and artist relationship; it's like a big brother to a younger brother relationship, and he's a great guy. So big shout-out to Akon and the Konvict Muzik crowd." – Wizkid
"I'm still trying to keep it original, staying true to my sound" – Wizkid
"Music is everything to me, and I'm most grateful that it's all working out." – Wizkid
"I wish I had a delete button in my life to delete some memories and feelings." – Wizkid
"I always dreamed of making it big." – Wizkid
"I've tried and tried and now I give up. I refuse to be the perfect friend to people that can't treat me with the same respect." – Wizkid
"Don't make so many promises when you can't even keep one." – Wizkid
"Everyday when I wake up life changes" – Wizkid
"I was just always happy to be in the studio and perform to people, that's my greatest joy." – Wizkid
You have to understand that being a star is not a joke, it is about everything, it is about life, your work, it is about how smart you think, it is about how you answer questions." – Wizkid
"I'm here to be an artist that leaves a legacy behind" – Wizkid
"I'm thankful because all the hard work and sacrifices were worth it in the end." – Wizkid
" I'm just blessed to be here and contribute to music the way i know best or seems best to my ability" – Wizkid
"Mistake is a single page of life but relation is a complete book. So don't lose a full book for a single page." – Wizkid
"Anything that's not positive, I don't have the energy to focus on it. Anything that's not going in the right direction, I don't have the time or the energy." – Wizkid
'I will always always do you right I will treat you like a queen I will buy you diamond rings." – Wizkid Quotes
"The only thing fame has changed in Wizkid is that I added some accessories. I have got nice chains, watches, and nice clothes. Asides that, I am still Wizkid. I no tall, still the same height." – Wizkid
"I'm making sure i always have African prints in my music and videos. I'm trying to be strategic with it.
"I think like music is Africa, music is from Africa for me" – Wizkid
"Umm… my favorite Wizkid tune of all time would be 'Don't Dull' 'cos I recorded the track in, like, 5 minutes. The beat was ready, we went into the studio and freestyled, and it was ready. The song became really, really big, so I think 'Don't Dull' is still my favorite." – Wizkid
" If I don't know you if I don't feel like we gonna have a connection in a record, sorry I wont do it." – Wizkid
"My daddy used to fight me each time i go to the studio" – Wizkid
"I feel like Africa is really gonna take over the world in music and in sound because now the music is bigger and global." – Wizkid
"I feel like I know women so much, like when I sit down and have a conversation with a girl because I have about 7 sisters and I witness how they used to fight with each other." – Wizkid
"When I'm back home, all I wear is African fabric. All I really rock is the traditional stuff." – Wizkid
"Lagos style is fresh and different. Even with the tailors, they get very innovative with their stuff, with the cuts. When my parents used to make traditional wears, it was a little bit baggy. But now the tailors are able to infuse the European style, making it slim-fit. Lagos style is different, man. Innovative." – Wizkid
"I love women, I probably have a lot of female friends than guys, I don't like talking with guys" – Wizkid
"I want people to know that when Wizkid comes into the room its all bout his music its all about business, he doesn't mock around" – Wizkid
"I have a lot of tailors. If I want something made in 12 hours, it will be made in 12 hours.
"Whatever happens on tour… stays on tour!" – Wizkid
"I don't do music for the fame, so I don't let that get into my head" – Wizkid
"I just keep working and keep moving for the greater vision" – Wizkid
" I come from Oju Elegba the real ghetto from Surulere, coming from that side you could only just hope you can have a better life." – Wizkid
"I would never go back to my life and change any thing." – Wizkid
"When I left the label no body actually know the real story." – Wizkid
"I only eat Nigerian food anywhere i am in the world." – Wizkid
"It's crazy how a whole lot of African artists work. Big respect to everyone that does it, but I have not heard anything that really cuts across. We're trying to do that." – Wizkid
"I'm getting in the studio with everybody I've always wanted to work with. That's the amazing thing." – Wizkid
Notes on Wizkid Quotes in Brief
Thanks for taking a look at these Wizkid quotes. Remember to like them and share them on social media.
Would you tell us which one of these quotes speaks to you the most? Please leave your thoughts in the box below.