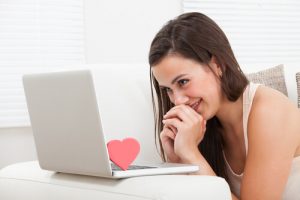 When you want to make your girlfriend happy, nothing works better than a cute text. A sweet text message is just the right thing that can make her smile. It works especially when your girlfriend is jealous or angry. You can also send sweet messages when you miss her madly. It is the easiest, yet most effective way, to bring a bright and cute smile to your girlfriend's face. Check out some of the cutest texts for all occasions to make your girlfriend happy:
60 Cute Texts To Make Your Girlfriend Happy
1. Call Your Girlfriend Beautiful
Send a cute message, "Hey, beautiful, Very Good morning!" to kick off the day brightly for both of you. It is one way of letting her know that you think of her every morning and it will surely make her happy.
2. Make Her Happy With Three Magic Words
Yes, as many times you have said them to her, whenever you text her "I love you" your girlfriend is sure to love and treasure it. And if she is jealous or unhappy for some reason, it will surely make her happy.
3. Text Her 'Miss You' Message
How do you feel when your beloved says to you, "I miss you so much?" Such a text always makes you happy. Naturally, when you send her this cute message, it will make her feel warm and delighted. Sometimes, it can be a way of telling your girlfriend how much you miss her when you are not with her.
4. Send Your Girlfriend A Simple Meaningful One-Liner
The text need not be very long. You can send a cute and sweet one-liner text to your girlfriend like, "You make my life beautiful" so that she knows how important she is for you.
5. Tell Your Girlfriend How Happy You Are Because Of Her
Let your girlfriend know what difference her presence in your life has made for you. Text her, "My life would not be so wonderful without you" to tell her how valuable she is.
6. Text Her What Makes You Smile
When your message says "Thinking of you makes me smile," she will herself keep on smiling all day. This one cute message will keep her happy all the day.
7. Make Her Happy With A Hot Text
Get more intimate and sexy by texting her a "Baby you're hotter than the sun!" message. It will add a little spice to your relationship too. However, just make it a little flirty, don't go overboard about it.
8. Tell your Girlfriend How Much She Matters
When you text her that "I cannot start the day without saying your name," it instantly will make her smile and be happy. This kind of text work magically when she is angry with you, and you are looking for a way to make her happy.
9. Tell Her How Special She Is
If your girlfriend is jealous and you can't find a way out, send her a cute text saying, "You are the only person who occupies my heart," to confirm that there is no reason for her to get jealous of any other girl. It will not only make her happy but help you in resolving the situation between you two.
10. Text Her That She Is In Your Heart
The best way to make a girl happy is to make her realize that she is the only one for you. She is the only one you have in your heart. Make her smile by sending her a sweet message that says, "My heart is all yours, keep it safe."
11. Emphasize Her Importance To You
You can message her, "You are the only real person for me in the entire world" to emphasize how much your girlfriend means to you. This text will make her feel happy as well as fall for you again.
12. Tell Her How You Always Want To Keep Her Happy
Every girl wants to feel secure when she is in a relationship. If you text her, "I want to make you so happy that you will never stop smiling," it will convince your girlfriend about your true love and care for her.
13. Make It Cute And Original
You don't have to be poetic while texting your girl, just be genuine. Make her happy with a cute and original message saying, "I could have copy-pasted any message from the internet, but nothing matches your cuteness." You will surely get to see a bright smile on your girlfriend's face when you meet her.
14. The Heart Specialist Story
If you want to bring a smile and to make your girl fall for you again and again, tease her by messaging, "My doctor says that I do not have a heart and it obvious because you have stolen it." Try to be a bit funny to make her smile.
15. Relate The Forever Feeling
You can feign being jealous and text her, "Do not look at anyone else I will kidnap you and keep you with me forever." When you try being jealous, it will be cute. She will find it funny yet charming. Every girl wants to see this side of their boyfriend.
16. Tell Her Your Love-Dream
Make her understand how you keep on thinking of her day and night and even dream of her by saying, "Dreamt of you last night and kept on thinking of it all day."
17. Dying To Live
A girl always wants to know what's in the mind of her partner or lover. Text her, "I'm simply dying to live with you ever since I met you," to tell her how important your girlfriend is to you. It will sound like you want to be with her 24/7, it will definitely move her heart and make her happy.
18. Would Die For You Text
Any text talking about death is a big turn-on. You can send her a message that says, "I would die a thousand times just to live with you."
19. Mirror-Mirror On The Wall
Any girl loves it when someone calls her beautiful. Make her happy by texting her, "You can see the most beautiful creation on this earth simply by looking in the mirror."
20. You Are The Special One
The best way to make a girl happy is to make her realize that she is unique and the only one for you. Tell her that she is the special one with a cute text saying, "The moment I saw you I knew you were the one for me."
21. Perfect Love-Dose
Tease her and make her smile by texting, "You are the perfect love-dose for me." Teasing is also a way to make her happy. Try being a little naughty and tease her.
22. You Stole My Heart
This may sound old fashioned, but calling your girlfriend a thief who stole your heart will be funny for her. Call your girlfriend a thief saying, "You stole my heart, give it back to me."
23. Should I Write An Essay?
Tell your girlfriend how much you would like to write about her by saying, "I can write an essay about you to tell you of my love for you."
24. Would Die For Love
These are the most favorite quotes from lovers who are in love. Text your girlfriend, "If, given the choice between life and death, I will prefer dying for you over life."
25. You Are The Only One
Any girl can be happy to hear that she is the only one for her lover. It will make her feel happy, special, and realize your love for her. Make her smile by texting, "There are millions of girls in the world, but you are the only one for me."
Simple Text That Can Make Your Girlfriend Happy
Here are some cute options that can make her smile:
26. "Hey, I love you so much that I cannot think of living this life without you."
27. "My heart beats faster the moment I see you or look at you."
28. "Sweetheart, do you know that you rule my heart and life?"
29. "I'm ready to wait 'till eternity to get you."
30. "Words cannot describe how I feel about you."
31. "Sweetheart, you are not only my girlfriend but my reason to live."
32. "I think of you every waking moment of life."
33. "If it takes climbing a mountain to make you smile, I will do that without complaint."
34. "I do not know about the rest of the world, but for me, you are the world."
35. "You are my light in the darkness and my hope in uncertainty."
36. "If I start writing about how much I love you, even oceans full of ink will not be enough."
37. "When I think of you, I cannot stop smiling."
38. "Whenever I text you, I feel happy from the inside."
39. "If I had to wait 'till eternity to get you I will still keep on waiting."
40. "As my girlfriend, you are the only one with whom I want to share my heart, body, and soul."
41. "You and I make the perfect combination of happiness and bliss."
42. "I think we are the soul mates who are meeting after being separated at the last birth."
43. "Without you, I do not have any reason to live."
44. "I do not want you to change for any reason. You are just perfect the way you are."
45. "How can you keep on looking beautiful all through the day?"
46. "Hey, darling! I like it when you are jealous. It makes me feel that I'm important for you."
47. "Shall I tell you a truth? When I run out of words describing your beauty, I just kiss you."
48. "I'm so glad that you chose me to be your life partner."
49. "Every time I see your eyes, I feel as if my dreams are coming true."
50. "Without you, there can be no me."
51. "I'm trying my best to fall asleep, but I simply cannot stop thinking about you!"
52. "I know you are very busy, but can you save some energy? We will need it at night!"
53. "At night I dream of you and during the day I dream of sleeping with you."
54. "Nothing can make this day brighter except you beside me."
55. "We are a hundred miles apart and I still feel so close to you."
56. "Hey, darling! How I wish I was your teddy bear!"
57. "Can you send me your picture? I want to show my friends that angels do exist."
58. "Even though I'm a master in mathematics, no calculator can calculate how much I love you."
59. "Are you free for the rest of your life? I want to keep you engaged."
60. "I cannot tell you personally how much I love you. But this text will definitely relate to you my feelings."
Thanks for viewing this collection of 60 Cute Texts To Make Your Girlfriend Happy 2021! Don't forget to share them with your friends on social media.
Which are your favorite Appreciation Love Messages?
Leave a comment below.